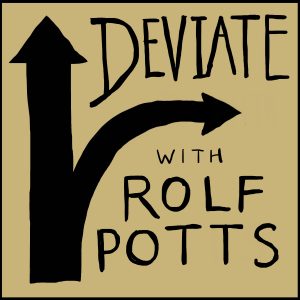 All episodes
Similar
Deviate is a conversational podcast where Rolf Potts goes off-topic as he discusses with intriguing people, experts and public figures. Rolf Potts is an essayist, travel writer, podcaster and author. He has written four books, including Vagabonding, which outlines a philosophy that has immensely influenced the Digital Nomad Movement.
Deviate has a mantra: "the best things in life are off-topic", and Potts uses that to steer conversations in unforeseen directions.
Deviate with Rolf Potts is featured among the best travelling podcasts.
Host:
Rolf Potts
Country:
United States
Episodes count:
228
Average duration:
60'
Frequency:
Twice a month
Category:
Society & Culture
,
Travel
Episodes
09/19/2023 00:39:32
09/05/2023 00:58:46
08/22/2023 00:36:05
08/08/2023 00:40:37
07/25/2023 00:45:02
Show all episodes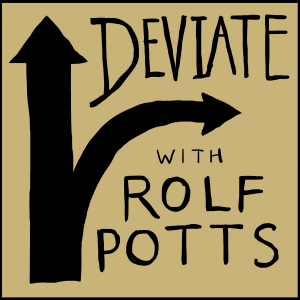 Vagabonding audio companion: A life in (and philosophy of) long-term travel
Deviate with Rolf Potts