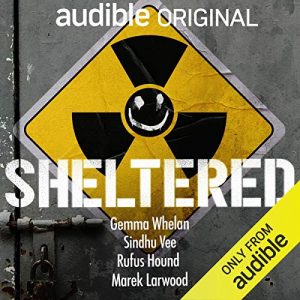 Listen on Audible for free
Try for 30 days, you can cancel whenever you want
Sheltered is a fictional sitcom that looks at the post-apocalyptic life of 7421. The show stars four characters, Gemma Whelan, Sindhu Vee, Rufus Hound and Marek Larwood, on a mission to discover what's left of human life. This means they must exit their safe and comfortable space and explore the unknown. Join the four as they make alliances in their quest to stay alive in a world full of robots, mega-badgers, and cannibals.
Sheltered is featured among the best Sci-Fi podcasts.
Host:
David Morley (director)
Country:
United Kingdom
Average duration:
29'
Frequency:
6 episodes released on 30th Novemeber, 2020
Producer:
Audible
Category:
Fiction