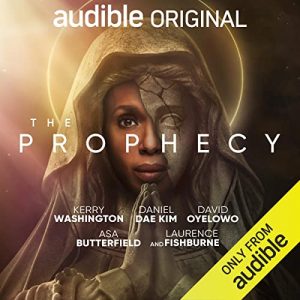 Listen on Audible for free
Try for 30 days, you can cancel whenever you want
When the world experiences unexplainable events and natural disasters that none of us, even scientists, have answers to, there are more questions than answers. But, according to Dr. Virginia Marilyn, these events are signs. They have more profound meaning, and she seeks the help of Scott Thomas, an agent at a secretive organization.
Virginia is desperate to share her views with Agent Thomas, and her desperation takes her to the headquarters, where she claims to be the Virgin Mary. But is Virginia the Virgin Mary? How about Agent Scott being the doubting Thomas? Listen to The Prophecy episodes to get the whole story.
Host:
Kerry Washington, Daniel Dae Kim, David Oyelowo, Asa Butterfield, Laurence Fishburne
Country:
United States
Average duration:
30'
Frequency:
8 episodes released on July 28th, 2022
Producer:
Audible
Category:
Fiction