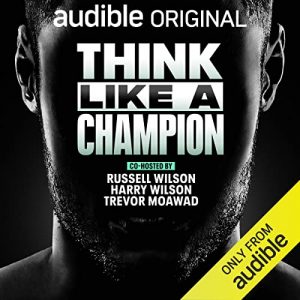 Listen on Audible for free
Try for 30 days, you can cancel whenever you want
Life can be cruel sometimes, and these low-life moments determine our destination. However, the most outstanding personalities faced challenges to get to the top, and their resilience saw them off. This is the central theme at Think Like a Champion, a show ideal for anyone who wants to live a better life.
Russel Wilson, Harry Wilson, and Trevor Moaward discuss the defining moments that took them to the peak of their fields. This shows you need to keep pushing and going forward no matter how hard the journey gets.
Host:
Russell Wilson, Harry Wilson, Trevor Moawad
Country:
United States
Episodes count:
Average duration:
27'
Frequency:
12 episodes released on October 6th, 2022
Producer:
Audible
Category:
Self improvement