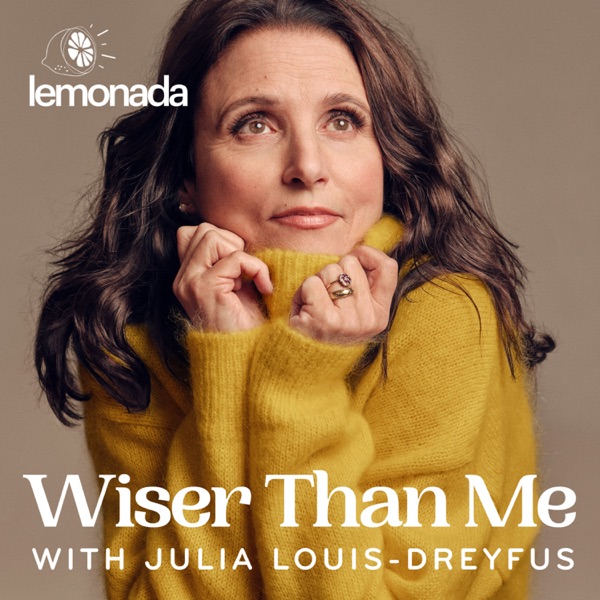 Julia Gets Wise with Rhea Perlman
Wiser Than Me with Julia Louis-Dreyfus
How Wiser than me was born
It was born out of a sort of a desire that I had. I had watched the Jane Fonda documentary on HBO, and I was really quite struck by the enormity and the scope of Jane Fonda's life. And I thought, we're not hearing enough from older women. Why are we not documenting these older women who have had so much life experience? And I sort of thought about that a lot and I thought, I want to talk to older women and get their wisdom, get their sort of tips from the frontlines of life. And so this idea was born, and that's exactly what I'm doing. I'm talking to older women. And the conversation is really through the lens of, "Tell us what you know, please." I'm finding it very inspiring, myself. I'm enjoying it.
Julia Said in Fresh Air on May 23
. 
About Julia Louis Dreyfus
Julia Louis-Dreyfus, America's comedic gem, has made us laugh out loud since her days on Saturday Night Live. She shot to fame as the sassy
Elaine Benes on Seinfeld
and won our hearts as the charmingly dysfunctional Christine in The New Adventures of Old Christine. Her biting wit as Selina Meyer in Veep set new standards for social satire. With a record number of Primetime
Emmy
and Screen Actors Guild
Awards
, she's the queen of TV humor.
She's also a regular on the big screen and has lent her versatile voice to animated favorites like A Bug's Life and Onward. Stepping into the world of superheroes, she's even part of the Marvel Cinematic Universe.
With a star on the
Hollywood Walk of Fame
and an induction into the
Television Academy Hall of Fame
, she's a force to be reckoned with. And she's still making us laugh in her latest flick, You Hurt My Feelings.
Julia Louis-Dreyfus is, no doubt, a true legend.