Navigating midlife can be as challenging as it is rewarding, and finding supportive and relatable voices during this time can make all the difference.
As we dive into 2023, the world of podcasting has great content on midlife women's journeys. From tackling the changes and transitions of this stage of life to exploring opportunities for personal growth and reinvention, these nine podcasts are essential listening for women moving through midlife in 2023.
So, whether you're seeking to understand this transformative period better, looking for a comforting voice of shared experience, or need a laugh from those who've been there, this list has got you covered.
HOT FLASHES & COOL TOPICS
A blend of humor and expertise to guide you through menopause with candid interviews and actionable advice.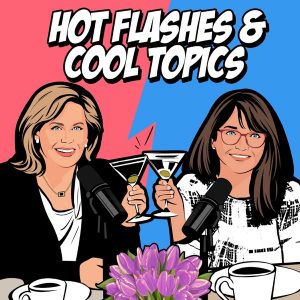 Hot Flashes & Cool Topics is a weekly podcast where Colleen Rosenblum, a former attorney turned pilates instructor, and Bridgett Biagi Garratt, a former elementary school teacher, give voice to women in midlife and beyond.
The episodes cover various topics, from relationships and careers to health and wellness. You'll also hear amazing interviews with prime-time celebrities, thought leaders, and experts about sleep disturbances, healthy lifestyles, diet, sexuality, relationships, midlife challenges, and more.
This pod is a supportive and informative worldwide community for women navigating the often-challenging transition of menopause. With a delicate mix of intelligent humor and expertise, Colleen and Bridgett bring refreshing and relatable data to the conversation around menopause. You can expect to leave each episode feeling acknowledged, empowered, and inspired.
The Midlife
A great exploration into midlife challenges and opportunities. Expect unfiltered conversations and resources.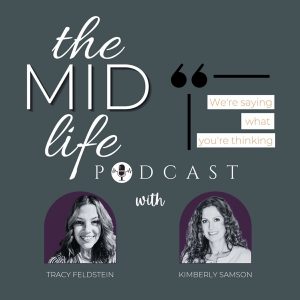 Professional career advisor Kimberly Samson and wellness expert Tracy Feldstein present a candid perspective on life in the middle, leaving no topic untouched.
This is a refreshing and engaging podcast that explores the challenges and opportunities that come with navigating midlife. Kimberly and Tracy discuss the topics you think about but may wonder if anyone else is too, rejecting the standard talks about aging or the typical empty encouragements.
One episode at a time, they share what they learned, offer guidance, and work through their struggles with you. Their goal is to make your journey smoother by sharing their experiences, and if they achieve this, they consider it a job well done.
They have welcomed successful guests: authors, wellness experts, and entrepreneurs, covering topics from mindfulness and self-care to financial planning and reinventing oneself in midlife.
The Midlife is the ultimate pod to learn more about relationships, friends, aging, vulnerability, and love.
Wiser Than Me with Julia Louis-Dreyfus
Fantastic conversations with incredible women. Jane Fonda and Fran Lebowitz are part of this unmatchable guest list.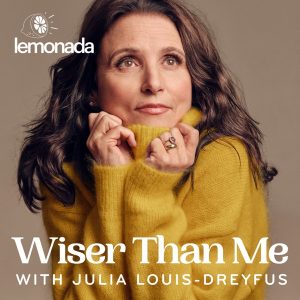 Julia Louis-Dreyfus blends humor, warmth, and authenticity in her new show. In each episode of Wiser than Me, the legendary Seinfeld co-star dives deep into riveting conversations with some of the world's most accomplished women. The lineup reads like a who's who of female icons, boasting names such as Jane Fonda, Fran Lebowitz, and Diane von Furstenberg, to name a few.
Each episode is filled with wisdom and raw, diverse experiences leading a fulfilling life. So whether you're in the throes of midlife or wish to learn from those who've blazed the trail, Wiser Than Me is a must-listen. It's an emotional journey, a laughter-filled ride, and an inspiring dose for women everywhere.
Thriving Thru Menopause
Holistic approaches to menopause guided by a neuroscientist, featuring diverse experts and practical tips.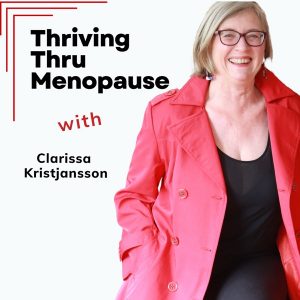 Thriving Thru Menopause is the go-to source for learning alternative approaches to menopause. What sets this weekly podcast apart is its emphasis on holistic perspectives. 
Clarissa Kristjansson draws on her experience as a neuroscientist and certified internationally recognized Menopause Mentor to dig into various subjects, from enhancing your sleep quality to handling anxiety or strengthening your relationships. 
You will also listen to the most exciting guests sharing their knowledge, perspectives, and helpful advice to effectively manage menopause and its associated changes and concerns. Featured guests such as health professionals, therapists, and women who have thrived during menopause bring diverse perspectives and insights to cover informative topics about hormone therapy, weight loss, perimenopause, energy sources, meditation, health, and much more.
Read also: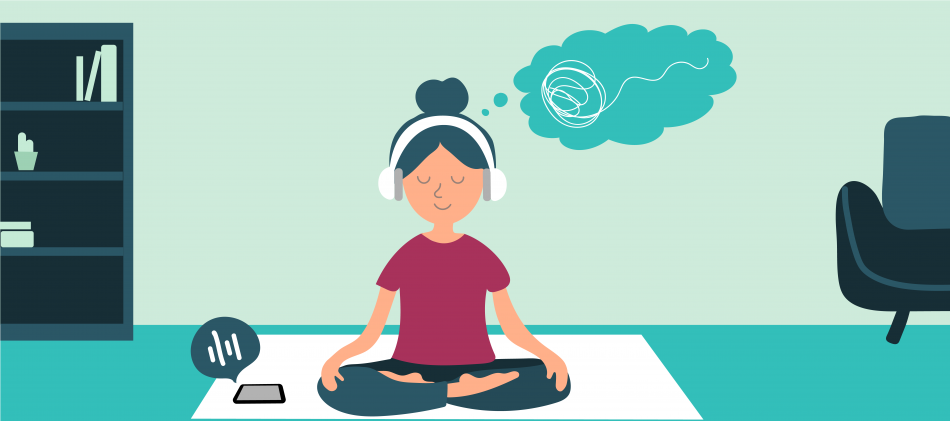 Best podcast meditations for deep sleep
A Certain Age
Navigate midlife transformations through conversations with experts in various fields.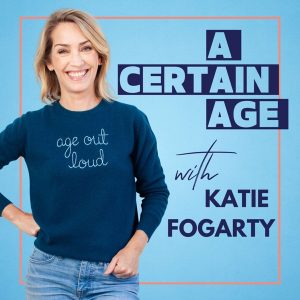 A Certain Age is an age-positive podcast to embrace your midlife and live your best life. Katie Fogarty brings a unique perspective to midlife and beyond. With a background that includes working as a TV news writer and teaching, she offers a refreshing and empowering outlook on this crucial stage of life.
One episode at a time, you will learn from engaging, candid and thought-provoking conversations with guests such as authors, artists, activists, and entrepreneurs. These are full of expert advice and resources to tackle life's challenges and ignite your passion for what lies ahead. They explore a wide range of topics, from career changes and personal growth to wellness and beauty, adventure and fun, menopause, parenting, and relationships.
Katie Fogarty started the brilliant #ageoutloud movement, where everyone can share her story on Instagram. This scope will connect women thriving during midlife and share practical strategies for navigating obstacles and setbacks, creating a shared experience and fostering a supportive and inclusive environment.
The Grown-Ass Woman's Guide with Jackie MacDougall
Life hacks and candid insights to elevate your midlife experience.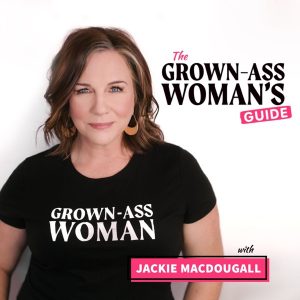 Every week, Jackie MacDougall helps you build stronger relationships with your loved ones, feel more comfortable in your body, boost self-esteem, and become the best versions of yourself. With her signature wit and candor, she shares personal stories and practical tips on everything.
Jackie MacDougall will discover how to embrace and elevate this remarkable stage of life while she talks with guests who share their stories and insights, offering diverse perspectives and valuable advice on relationships, inner self and inspiration.
Whether seeking a career change, better financial management, or improved physical, emotional, or mental wellness through fitness and health, TGAWG is the pod that will support you.
Dr. Brooke Show
Holistic health advice tailored for midlife and beyond by naturopathic doctor Brooke Kalanick.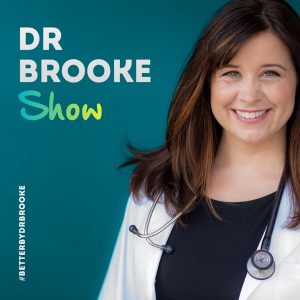 Hosted by Dr. Brooke Kalanick, a naturopathic doctor and functional medicine practitioner, this podcast offers a holistic perspective on health that is both informative and entertaining. Dr. Brooke is not only well-informed, but she also has a unique ability to convey complex information in an approachable manner.
With her extensive knowledge and experience in functional medicine, Dr. Brooke shares insights and advice on various health topics, from hormone imbalances and gut health to stress management and weight loss. The uniqueness of the podcast is the emphasis on finding a personalized approach to health that works for each individual while understanding self-improvement challenges.
You will find several episodes on topics relevant to perimenopause and midlife. Additionally, one of the episodes was a more personal discussion on midlife. Dr. Brooke plans to release an episode that explicitly addresses weight loss during perimenopause and the essential considerations to make before pursuing hormone replacement therapy.
Dr. Brooke Show features a range of expert guests, including functional medicine practitioners, nutritionists, and other health professionals, providing handy tips and empowering messages.
Feminine Roadmap
Midlife women empowered. Understand aging as an opportunity for growth and purpose.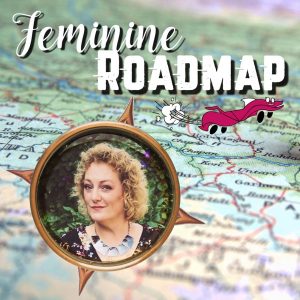 Feminine Roadmap has been on the air for over five years and garnered recognition from Woman's Day magazine, which compared it to Dr. Phil and Oprah.
Gina Farrar is here to empower you and ensure you live your best life in the second half, full of vibrancy and purpose. She also offers a program called "Your Midlife Masterpiece Plan", with 7 key strategies to enjoy your midlife, create a personal growth and fulfillment plan, and see aging as a gift. 
You can imagine the possibilities that come with this powerful shift in perspective, where midlife is viewed as the start of some of the best years of your life.
Women in the Middle: Loving Life After 50
Live a joyful life after 50. A pod offering practical steps for daily transformation in mindset, health, and career.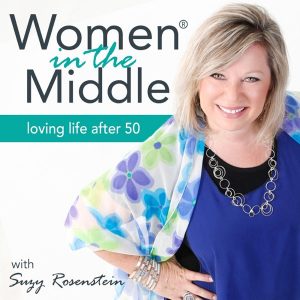 Are you ready to learn about all the joy you can experience after 50? If yes, then Women in the Middle will help you have fun daily through easy and practical steps.
Suzy Rosenstein is a certified life coach, entrepreneur and podcast host. One episode at a time, she gives an in-depth understanding of midlife and some of the life changes women should expect as they unfold this new life chapter.
This pod will help you focus on essential life aspects such as mindset, aging, health, and career. Rosenstein analyses these sensitive topics and provides helpful ideas to improve your quality of life after 50. In addition, she talks with experienced guests who have had their fair share of midlife struggles. 
Midlife should be as fun, intriguing and vibrant as your young days. However, many women get overwhelmed by the significant changes in their lives. If this is you, learning from the experts is the best way to eliminate anxiety and uncertainty and begin reliving life to the fullest.
Share: