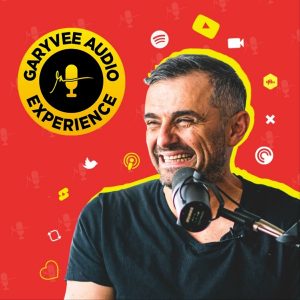 All episodes
Similar
Seasoned and experienced CEO, entrepreneur, investor, public speaker, and investor Gary Vaynerchuk hosts The GaryVee Audio Experience.
Gary Vaynerchuk started his entrepreneurial journey as a child when he used to run a lemonade stand. Later, he acquired experience and knowledge from his family's wine business, which grew exponentially in sales (sales went from $3 million to $60 million within five years).
This podcast mixes his keynote speeches on marketing and business, interviews with fellow entrepreneurs, segments from his video series and original thoughts and comments.
Host:
Gary Vaynerchuk
Country:
United States
Episodes count:
1543
Average duration:
Irregular
Frequency:
Weekly
Episodes
today (12/10/2023) 00:38:49
yesterday (12/09/2023) 00:18:19
12/08/2023 00:56:12
12/07/2023 00:21:03
12/06/2023 01:15:03
Show all episodes
Whats in store for 2024?
The GaryVee Audio Experience