As we mark another vibrant Pride Month this 2023, it's time to celebrate, learn, and reflect on the multifaceted LGBTQ+ experiences worldwide. One way to do this is through the power of storytelling, and there's no better platform than podcasts to explore these narratives.
LGBTQ+ Podcasts provide an intimate space to listen, empathize, and understand straight from the voices who live these experiences daily. This article highlights six standout gay podcasts of 2023, each unique in its content, presenting tales, truths, and triumphs. So let's tune in, learn, and celebrate Pride 2023 together.
Making Gay History | LGBTQ Oral Histories from the Archive
Dive into the hidden chapters of LGBTQ rights with compelling stories from unknown heroes. Biweekly, 30-minute episodes.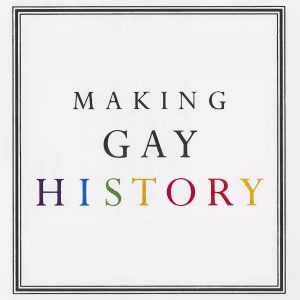 Making Gay History: LGBTQ Oral Histories from the Archive is a weekly podcast that dives into the rich, untold stories from the LGBTQ civil rights movement. Presented by award-winning author and historian Eric Marcus, this 30-minute podcast explores the lesser-known but impactful leaders and everyday heroes that have helped shape our world. Hear inspiring stories of courage and resilience, and gain insight into the history of the LGBTQ civil rights movement.
Homo Sapiens
Explore queer life and culture through interviews with diverse members of the LGBTQ+ community. Weekly, 30-minute conversations that'll leave you inspired.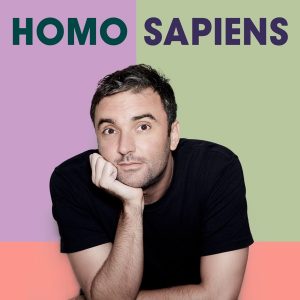 Homo Sapiens celebrates and explores queer life, culture, and identity through interviews with members of the LGBTQ+ community. Every Thursday, Chris Sweeney chats with fascinating people from all walks of life to gain insight into their unique experiences and perspectives. From artists and activists to businesspeople and entertainers, guests will share their stories, provide advice, and offer a window into the beautiful, diverse world of the LGBTQ+ community. Every episode will surely be an inspiring, thought-provoking, interactive experience the listeners (this means you!) can join too.
My Big Gay Podcast
A comedic look at gay life in London through the lens of two friends. Weekly, featuring celebrity chats and amusing anecdotes.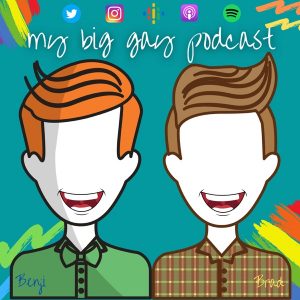 My big gay podcast is an award-winning LGBTQ+ comedy podcast by Benji & Brad, discussing their life and career in London.
Rated one of the best LGBTQ podcasts as each episode features celebrity interviews, games, funny stories, and several amusements about the two gay friends.
Want to know what it feels like to be living as gay in London? Tune in to enjoy this exciting podcast and follow the likes, love, and daily adventures of these two gay friends. Trust me, you will be obsessed with the podcast after listening to your first episode.
LGBTQ&A
Weekly deep dives with LGBTQ+ personalities, where surface-level isn't an option. Hosted by a journalist passionate about compelling stories.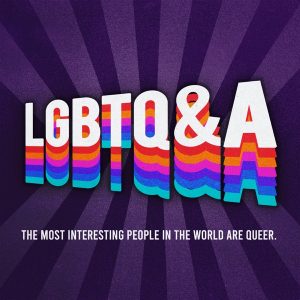 The popular LGBTQ&A podcast is hosted by Jeffrey Masters and produced by The Advocate magazine in collaboration with GLADD.
This podcast features weekly interviews with notable and exciting LGBTQ+ people worldwide. Jeffrey's Masters' interest in the stories of his guests and his encouraging manner allow him to get deeper and go beyond the surface regardless of who he is interviewing, whether a member of the entertainment industry or an activist.
The podcast has featured famous personalities such as Laverne Cox, Brandi Carlile, Pete Buttigieg, Roxane Gay, Francois Clemmons, and Holland Taylor.
It was launched in 2016 and, to date, has conducted over 200 interviews. If you want to understand what it sounds like to have your host well-prepared, listen to the LGBTQ&A podcast by Jeffrey masters.
Disability after dark podcast
Confront disability and sexuality through honest conversations. Weekly episodes with over 400 thousand downloads worldwide.
Disability after dark intricately examines disability stories. It was launched in September 2016 by Andrew Gurza. He is a disability awareness consultant and an independent 'queer cripple' who discusses the intersection of disabilities, sexuality, and sex in his podcast.
It is an insightful gay podcast that is as real as having a heart-to-heart conversation with a close friend about the disability experience most people shy away from talking about. This has earned it over 400 thousand downloads worldwide with over 200 episodes.
Disability after dark podcast celebrates the inclusion and diversity of all people, despite their religions, ethnicity, races, gender, sexuality, etc. Once you tune in, you start to get insights into all the ableism in our daily lives and how those with disabilities are not granted access to most spaces, including the queer scene.
A Gay and A NonGay
Breaking down barriers between gays and non-gays through comedy and heartfelt discussions.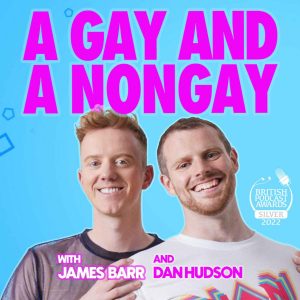 A Gay and A NonGay is an independent podcast by comedians Dan Hudson (he is nongay) and James Barr (James is gay).
Regardless of what you are into or who you are, love is love, and gays and nongays can and should be friends. James and Dan dive into conversations about daily life, homophobia, differences in perception, mental health, coming out, dating, and all. The goal is to challenge any difference and make clear that we are all one. We are all different and unique but beautiful human beings that are made to love, not hate, each other.
A gay and nongay podcast is the UK's no.1 award-winning LGBTQ+ podcast. It sends a message of hope and inclusion to everyone, regardless of their sexuality or where they are. Do you want an original and funny exploration of sexuality? Or do you prefer to talk about love, friendship, and sex? Tune in and enjoy the most fundamentally kind and funny podcast in the UK.
You should have these podcasts in your list of queer podcasts you listen to; you can add them if you haven't. Trust me; you will feel like chatting with your friends in a safe and secure space.
You can also lay your hands on these podcasts to listen to if you are exploring your sexuality or want to learn more about the LGBTQ+ community. So tune in, relax, and prepare for unique, insightful, hilarious podcasts.
Share: