Over the past years, children's podcasts have emerged as a compelling alternative to screen time, offering a blend of education and entertainment that's winning young hearts and minds. These podcasts range from spellbinding storytelling to mindful meditations and musical explorations, providing an immersive experience that fuels imagination while developing essential listening skills.
Whether you're looking for engaging travel companions, relaxing bedtime stories, or stimulating educational content, these podcasts are just right. This article showcases the most innovative and captivating children's podcasts in 2023, handpicked to offer screen-free entertainment and enrichment for your young ones. Let's dive in!
Stoopkid Stories
Dive into a world of imagination and heartfelt stories. Monthly episodes explore themes like bravery, self-discovery, and community.
Stoopkid Stories podcast is nothing but imagination and wonders for children ages five and above. Melissa Victor, also known as Melly, is the mastermind and captivating host behind Stoopkids Stories.
Through her profound background in music and theater and her cherished personal experiences, Melly has crafted a compelling and exhilarating show tailored for the eager ears of young children.
The podcast's ability to engage children and adults alike sets it apart. The stories are crafted with care, touching on themes of fellowship, self-discovery, and bravery. In each episode, you witness tales of young Black characters navigating fresh adventures and triumphing over obstacles in education, friendship, family, and community. Her heartfelt aspiration resonates clearly: "I want young kids who look like me to see and hear themselves in all forms of storytelling."
Tune in and let your imagination soar with Stoopkid Stories.
Finally a podcast that brings a black voice to the world of children's stories. Fun, original stories. Sparks conversation about current events in kid-friendly language. Thank you!

Apple Podcasts listener
Sparkle Stories Podcast
Kind-hearted tales and life lessons that inspire both kids and adults to think creatively.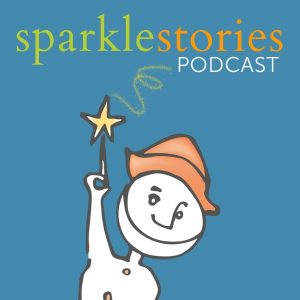 Sparkle Stories Podcast, hosted by David Sewell McCann and a team of talented editors and creators, is a valuable audio show packed with captivating tales for children and families. David is a professional author and storyteller. He has weaved over 1400 magical and original stories since 2010. Each transports young listeners to imaginative worlds, fostering a love for storytelling and a sense of wonder.
What sets Sparkle Stories apart is its wide variety of topics and themes wrapped in kindness-centered children's entertainment. Each episode explores different life lessons, adventures, and values, catering to the diverse interests of young listeners. As a result, the podcast does not only entertain but also offers inspiration for further exploration and creativity.
My mom played this for me every night. It's so comforting for me. I memorized the beginning of Martin and Sylvia's stories.

Now I'm a teen writer 🙂

Apple Podcasts listener
Read also: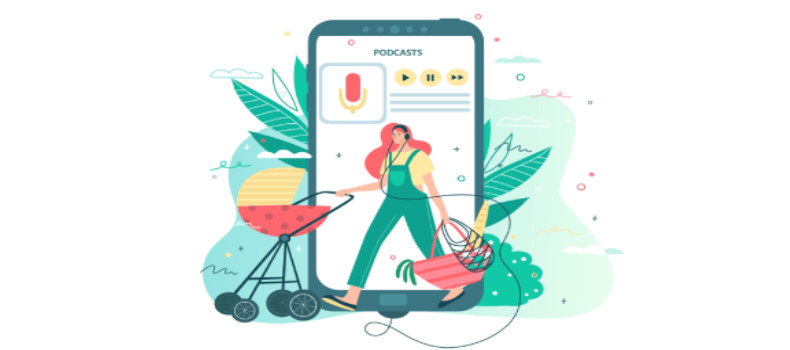 Best Parenting Podcasts Worth Your Time
Noodle Loaf – Music Education Podcast for Kids
A weekly dose of rhythm games, lessons, and fun musical explorations for kids aged 3-9.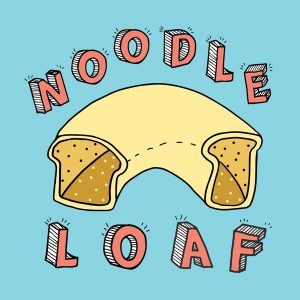 Noodle Loaf is a thrilling music education podcast for kids ages 3-9 and above. Dan Saks, the host, birthed the show alongside his amazing children. He is a best-selling author, a musician, and a music educator specializing in early childhood education.
The podcast contains high-quality kids' content, with Dan inviting his family to join for some creative fun. The episodes are jampacked with fun music for kids, entertaining movement activities, lessons through every play, and rhythm games.
If you are looking for a podcast that will help your kids become more intelligent, compassionate, and creative through the power of music, this is the podcast you need to tune into.
I have worked as a music educator, and I was thrilled to find this for my own 4 year old. Through silliness and fun, he is practicing rhythm, listening skills, pitch matching, and lyric play (which of course also fosters his literacy skills). He is also hearing themes of inclusivity reinforced in natural ways.

Apple Podcasts listener
KidNuz
Daily episodes providing kid-friendly news on science, politics, and more, fostering global awareness and critical thinking.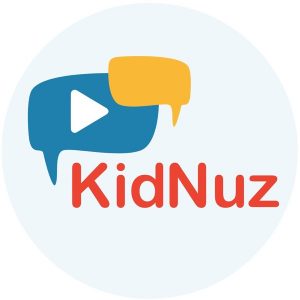 Hosted by a team of skilled and Emmy-winning journalists, KidNuz offers engaging and informative news tailored to children. The show was created to provide children with a reliable and age-appropriate source of current events. Each episode presents a curated selection of news stories from around the world related to science, politics, entertainment, health, and sports.
The hosts skilfully explain news stories using simple language and relatable examples, ensuring kids can understand and connect with shared information. KidNuz fosters curiosity, encourages discussion and critical thinking, and helps children develop their own perspectives on the world.
Be sure to check out KidNuz and empower young minds with knowledge and awareness in an accessible and engaging way.
We listen to KidNuz all. The. Time. My kids look so forward to it. It is a great source of conversation. It helps support our homeschool! Thank you!

Apple Podcasts listener
Little Kids, Big Hearts
A monthly emotional toolkit for young hearts and minds that will help children and adults explore complex emotions and social issues.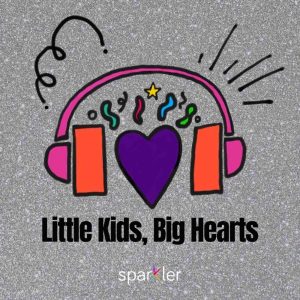 Little Kids, Big Hearts strives to help children identify and express their thoughts and feelings.
Todd Loyd, the show host, started his career as an artistic director and actor. However, after his experience working one on one with an autistic child, he chose the teaching path and has worked in the education sector for 26 years.
His podcast is designed for big-hearted kids ages 3-8 and their caregivers and parents. The show aids parents and teachers in introducing their kids to intricate subjects related to social and emotional education.
The episodes focus on friendships, identity, and helping others. One episode after the other, Todd welcomes kids to the show to discuss the most diverse topics, from pets to nightmares and everything in between.
Little Kids, Big Hearts is a unique podcast that really lets kids shine for who they are. Todd is a great host and creates a safe and fun environment for them to explore all different types of topics, from siblings to feelings to empathy to race. So often, we hear adults telling us what is best for our kids and in this podcast we can revel in their own wonder and come up with solutions that are at times, even better than our own. Highly recommend!!

Apple Podcasts listener
Like You: Mindfulness For Kids
Discover mindfulness through captivating visuals, meditations, and activities. Monthly episodes empower kids and adults to navigate emotions and cultivate inner calm.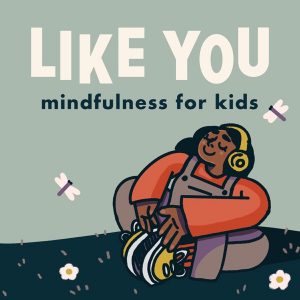 Like You: Mindfulness For Kids is a remarkable podcast launched in 2020 that offers a nurturing and calming experience for kids. Hosted by Noah Glenn, this podcast introduces children to mindfulness practices in a fun and engaging way.
Noah runs a creative studio known as Perpetual Motion. His passion centers around telling stories that help make the world kinder. His podcast aims to empower kids with valuable tools to navigate their emotions, develop self-awareness and cultivate a sense of inner calm.
The show uses music, soothing guided meditations, thoughtful discussions, and interactive activities to encourage children to explore mindfulness techniques that can benefit their overall well-being and that they can keep for life.
What sets this podcast apart is its approach to mindfulness. A wide range of topics, including self-acceptance, kindness, emotional regulation, and gratitude, are covered on the show, all while having fun. In addition, Noah builds captivating visuals to help children and adults recognize and accommodate their emotions.
The podcast is totally recommended for kids and grownups who want to connect with themselves and their inner child.
More than ever, our kids need positive messages that affirm their feelings and their value—this podcast delivers them in such a thoughtful and respectful way.

Apple Podcasts listener
Curious Kid Podcast
Unlock the universe's secrets with a curious father-daughter duo. Weekly episodes dig deep into questions that intrigue young minds, encouraging audience participation.
Curious Kid Podcast is a captivating show hosted by a father and daughter duo, Jacob and Olivia. In each episode, they embark on exciting journeys of discovery alongside their curious listeners. They explore a wide range of intriguing topics that pique children's curiosity.
From animals to inventions, from space exploration to historical events, each episode focuses on a specific question, providing well-researched answers in a kid-friendly manner. The podcast consists of an engaging and interactive format. 
Olivia and Jacob encourage their young audience to submit questions and suggestions, actively involving them in learning. This creates a sense of inclusivity and excitement, making every listener feel part of the exploration team.
With new episodes released every Sunday, Curious Kid Podcast ensures there's always something new to learn and discover.
As a homeschooling family it has been a wonderful educational resource and inspires us to get curious and creative at home, too. We have learned so much from the podcast but what really makes it special is the relationship between Jacob and Olivia (the father and daughter that host the show) as the love between them shines through in every episode.

Apple Podcasts listener
How to listen to podcasts for kids
Listening to podcasts with your children is a great way to spend quality time together and expose them to various topics and ideas. Here are some tips on implementing podcast listening with your children:
Choose age-appropriate podcasts: Look for podcasts geared towards children and their interests. We just gave you a great list to start with!
Listen together: Make listening to podcasts a shared experience. Listen with your children and talk about what you're hearing. This can lead to exciting discussions and can help build their listening skills.
Use podcasts as a learning tool: Podcasts can significantly supplement your child's education. Look for podcasts that cover topics they are learning about in school or use them to introduce them to new ideas and concepts.
Set aside dedicated listening time: Regularly listen to podcasts. Implementing podcast listening with your children can be a fun and educational experience for both of you.
As we wrap up our journey through the world of children's podcasts, it's clear that this is an extraordinary time for innovative, engaging audio content for young listeners. These podcasts for kids offer a delightful blend of learning and entertainment, nourishing the minds and sparking our children's imagination. So tune in and discover the magic of these captivating narratives, explorations, and adventures that promise to transform any moment into an opportunity for fun and discovery.
Share: